We are excited to announce the launch of our new community site for the Vancouver Developers. Shop has always had a strong belief that giving back to the design community— including the support of locally based designers and developers right here in Vancouver, is essential to our core philosophy. In line with that, our team has created a Slack channel for local web developers designed to foster community, help grow their networks, and leave them feeling inspired about their industry.
The communication from our initial batch of developers has been interesting. Members often post new and exciting changes happening within the web industry or offer advice when group members are struggling with troubleshooting a project. They also have a need to get together quarterly to meet face-to-face, often over a few beers and spending time chatting about recent projects and the latest innovations. We hope to continue fostering this type of communication while we move the community forward and determine how we can be of the most use in supporting local developers.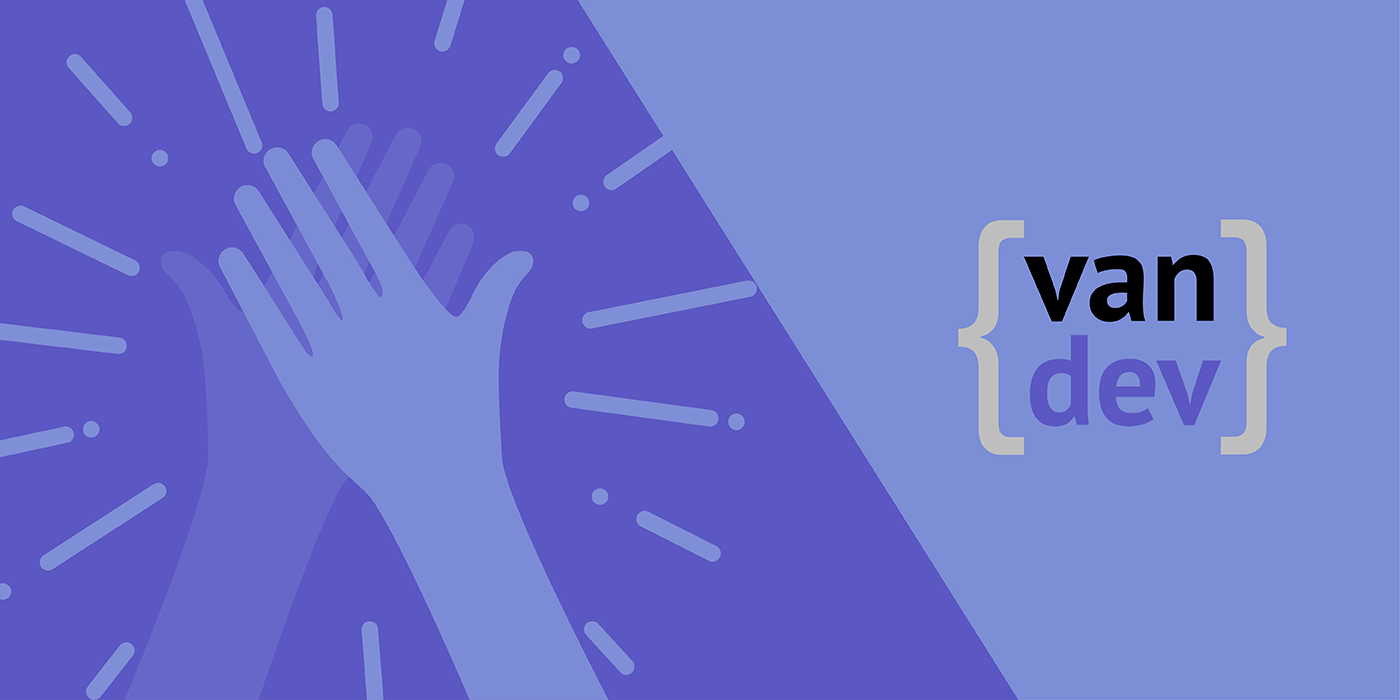 Push for Engagement
Creating a single page support website for our group was top of the list. Having a public presence would allow us to have a stronger reach solidifying our outward appearance to prospective new members in the area. As a small and fast-growing group, it was important to identify the mission and get that out into the public to better showcase what this group has to offer their local community. It was vital that the website be both informative and engaging, but it also needed to push the box a bit in its development to help show the validity of the group and the members that support it.
Striking the Balance
One of the biggest challenges during the VanDevs project was creating an inclusive design aesthetic. We want this community to speak for everyone regardless of race and gender. All too often web development groups/community websites are visually geared toward male developers. The use of dark colors pops of blue or orange, and strong capitating industry related graphics. Our newest addition to the team, Chloe Anne, knows first hand what it is like to try to navigate in a "male-dominated industry". As she set into designing the site, she was very clear about the need to keep the aesthetic and feel of the site gender neutral to avoid excluding anyone. Our team agreed and felt it was pertinent that the visuals used this group not induce any perceived gender bias. Chloe worked to bring in playful pastels that were high in contrast and imagery that spoke to a wide, diverse audience.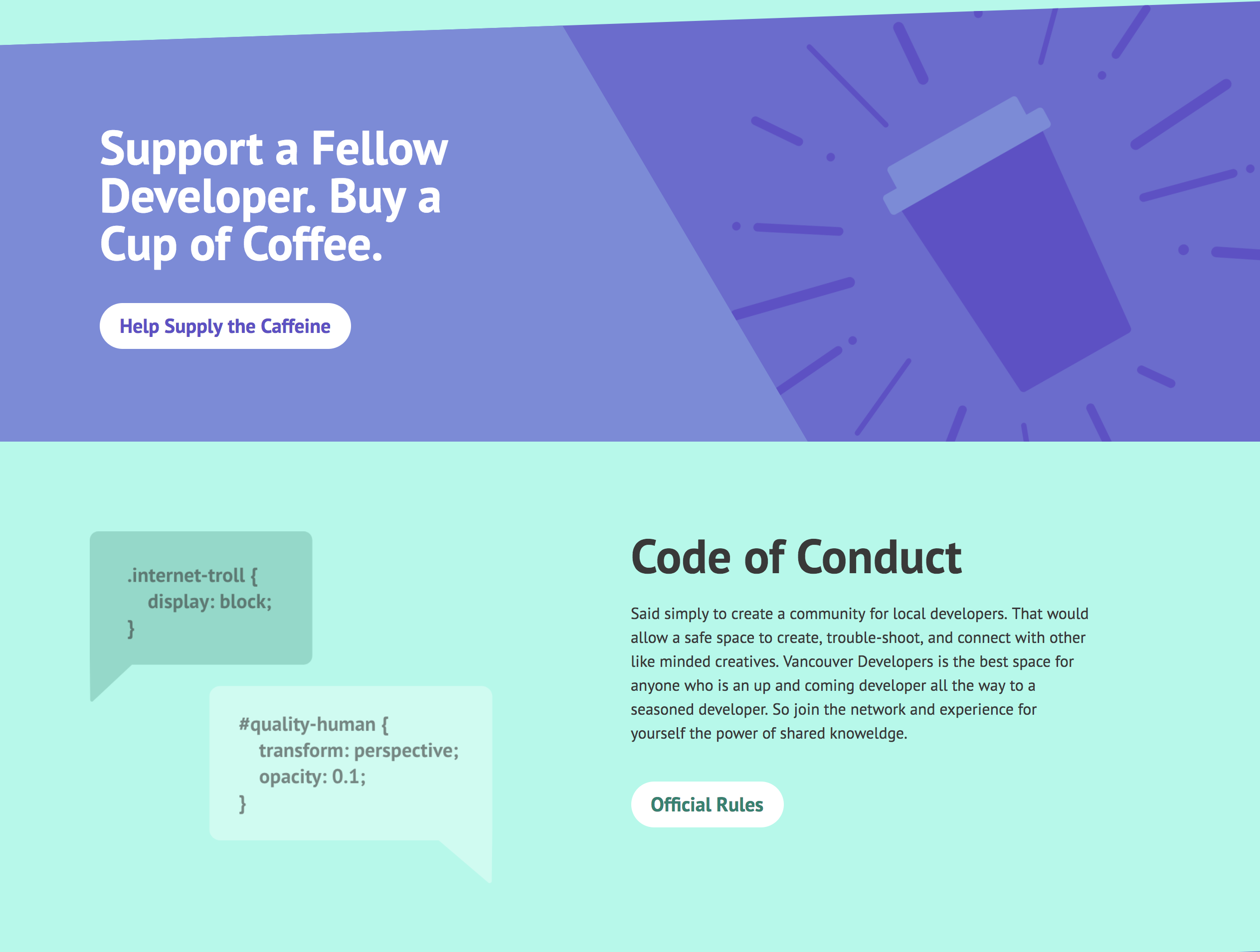 The Brass Tacks
She worked to create bold graphics and copy that summarized the different topics on the page and the group's mission in a simple, transparent way. Using rounded strokes and thick lines— she balanced modernity and freshness while giving the site a sense of openness and security.

Google's open-sourced font, Oswald, was chosen for these same reasons as it featured a similar stroke weight in its headings and larger counters, allowing it to feel airy and easy to visually digest.
This being one of Chloe's first web development projects from start to finish there were a lot of learning curves. One of the most notable being the utilization of CSS to achieve the diagonal lines within each page section, but she got very adept at using pseudo classes and rotation to get the angles just right.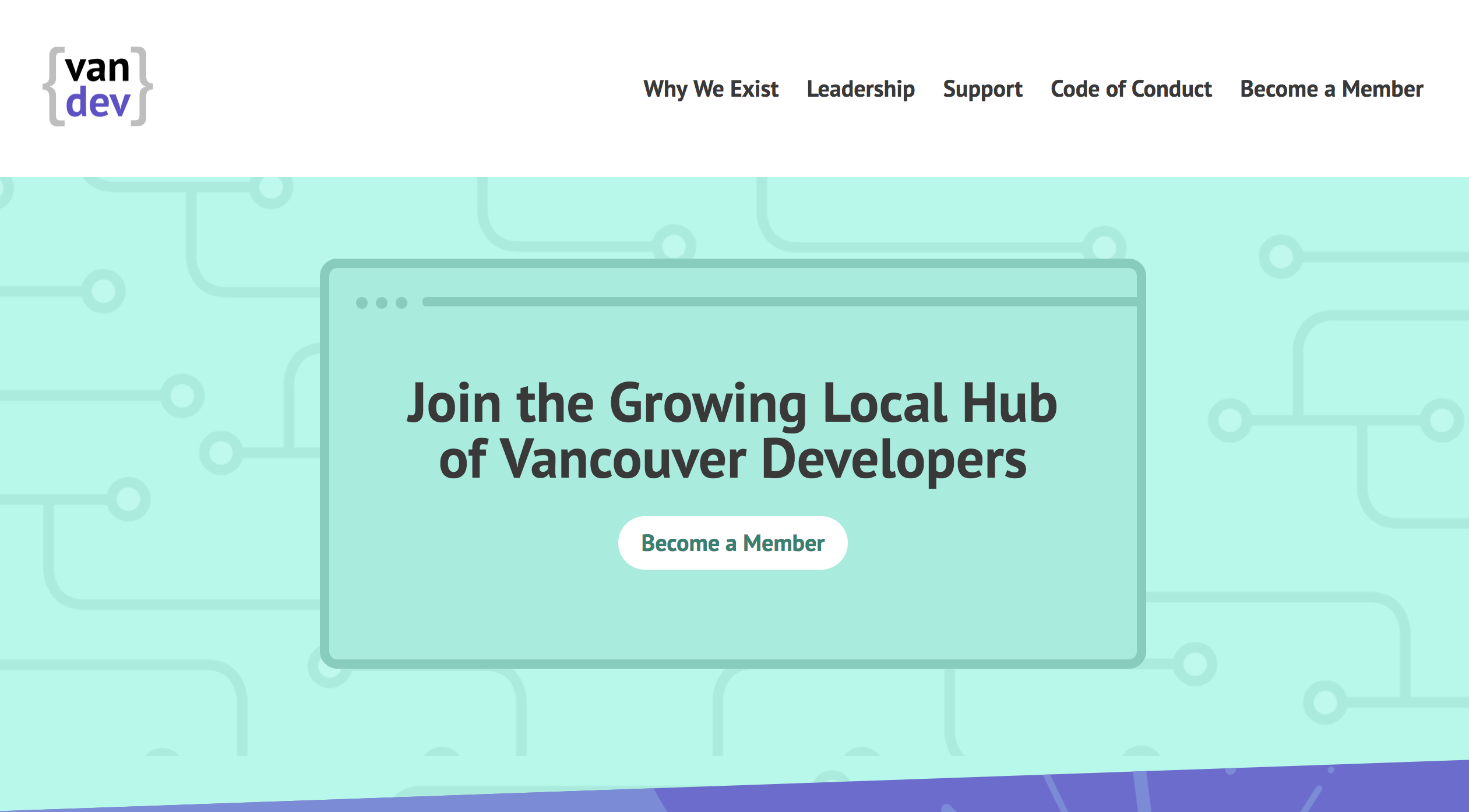 Utilizing divs to create an icon-based graphic was another curve Chloe faced in the development of the site. However, creating the "browser window" within a series of overlapping divs allowed the graphic to be fully responsive accommodating for the text wrap at different browser widths.
Since the launch of the site, there has been a consistent increase in the number of local developers looking to join, and excitement among members to reach out to their existing network and bring them into the group.
If you know a Vancouver, WA-based developer feel free to pass them along to the site. We'd be more than happy to have them as a part of this new slice of community.
This article has been cross-posted on Medium
by shop // Thoughts